Intangible Assets
Yecheon Gungjang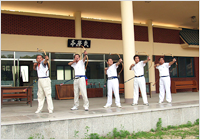 Location

: 69-3, Nambon-ri, Yecheon-eup
This is the home town of Wangsangol (Wangsin 2-ri) of Yecheon-eup, which was pioneered by Gwon Ik-cheol and his descendants in early 1800s. It is a 'same-family-name' village where Andong-Gwon families reside. Composed of 20 households, a majority of people had been making a living by making archeries until 1970s.
Tongmyeong Farmers' Song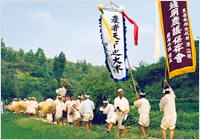 Location

: 335-1 Tongmyeong-ri, Yecheon-eup
Tongmyeong farmers' song was sung by many in Tongmyeong-ri and its adjacent areas before vanishing gradually in the 1950s. The song was completely revived in 1974 by Ham Bong-jun, Gang Won-hui and others. It was performed first in the 1st Yecheon Cultural Festival in 1974 and was awarded the Presidential Prize in the 20th National Folk Art Contest in 1979.
Gongcheo Farmers's Song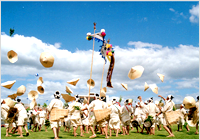 Location

: 465, Gongdeok-ri, Pungyang-myeon
Gongcheo farmer's song was inherited thanks to the effort of a few people like Yang Sam-eok, Lee Yong-sik and others which had been desisted in the aftermath of the mechanization of agriculture since 1960s, and was awarded the Presidential Prize in the 33rd Korean Folk Art Contest in 1992. In 1986, it was designated as intangible cultural asset no. 10 (currently possessed by Hwang Gi-deok).